Women Artists of Madhubani
MITHILAsmita Is A Social Enterprise To Preserve And Promote Heritage

Indian

Art forms, With A Focus On Ancient Madhubani Paintings, And Support The Rural Women Artists Practicing The Art Though Various Self-sustainable Initiatives.
Every product/service by MITHILAsmita supports the livelihood of one or more traditional artists.
Empowering Women Artists
Organising rural women artists into clusters and training them to create world class handmade merchandise.
Preserving the ancient Art
Encouraging artists to practise art in their own authentic style to ensure the art is passed down to future generations in true form.
Who We Are
MITHILAsmita is a widely acclaimed social enterprise working towards preserving and promoting heritage Indian art forms, with a focus on Madhubani paintings. It is a women led organisation committed to creating sustainable livelihood opportunities and offering a life of dignity to the rural women artisans.
Every product or service by MITHILAsmita supports the livelihood of at least one traditional artist.
                              Know More
What We Do
With the rise of commercialisation and factory made goods, even a priceless tradition like 'Mithila Paintings' has been affected.
We at 'MITHILAsmita' strive to preserve the original Mithila Paintings (aka Madhubani Paintings) in its centuries old free-hand style, by providing genuine artists from Mithilanchal a platform to showcase their work and a market to sell their products.
How We Are Different
We believe in responsible business over charity.
While we aim to provide the traditional art forms of India an International platform, we do so while maintaining the authenticity of the art. We support multiple artisan clusters through our authentic Madhubani merchandise and impact communities at multiple socio-economic levels, with a huge focus on rural women.
                        Know More
In the year 2020, MITHILAsmita became the proud recipient of a UN Women WEPs Award ( Generation Equality Champion – Marketplace Category) for working towards the gender equality in Marketplace segment by integrating Madhubani Paintings, a traditional women's art into mainstream merchandise- Corporate Gifts, Museum Merchandise, Government Gifts and Lifestyle Products all handmade and painted in Madhubani art.
MITHILAsmita continues to impact by working with the most underprivileged rural women communities of artisans, weavers and tailors , thus alleviating poverty besides presenting the best of Indian art & craft by traditional communities to the world. 
Made in India with Love, For India & The World
Designed for the Most Prestigious
MITHILAsmita designed first ever Madhubani merchandise collection for the National Museum. The collection was inspired by the existing National Museum Collection and reinterpreted by MITHILAsmita team & folk artists in Madhubani style. 
Do visit the National Museum to check out our collection.
Taking Indian Art & Heritage Global
Madhubani merchandise handmade by rural women artists of India is now available at the British Museum Shop. 
In a first of its kind intervention, we also arranged an online art workshop by one of the most celebrated Madhubani artists for the visitors at the Tate Museum, London.
WORLD OF MADHUBANI
If you are a Corporate, Museum, Government agency or an Art Lover from India, visit our Indian Online Store: WORLDOFMADHUBANI.IN
ARTNHER
If you are a Corporate, Museum, Government agency or an Art Lover from Overseas, visit our International Online Store- ARTNHER.COM
Certified Brand on GEM
India's leading heritage art brand MITHILAsmita is now live on GEM (Government e Marketplace) at special government rates. We welcome all central and state government bodies to start placing their orders on GEM.GOV.IN.
Celebrating Azadi ka Amrit Mahotsav
MITHILAsmita celebrating 75th year of India's Independence By designing 75 khadi Madhubani lifestyle merchandise. Handmade & Hand Painted by traditional women artists of India.
Taking Women Artists Global
MITHILAsmita organised Madhubani Art Workshop for volunteers at Tate, leading National Museum of the United Kingdom bringing a rural Madhubani artist Live over video conference.
Corona Initiative by MITHILAsmita
Mask Making Training for Women Cluster in Slums
Supporting Traditional Madhubani Women Artists in the times of Pandemic
Organized Awareness Program in impoverished communities
Mask Distribution to front line workers, deprived communities, sex workers, transgenders
Corporate CSR Partnership
Corporate Gifting Partnerships
Social Organization Partnerships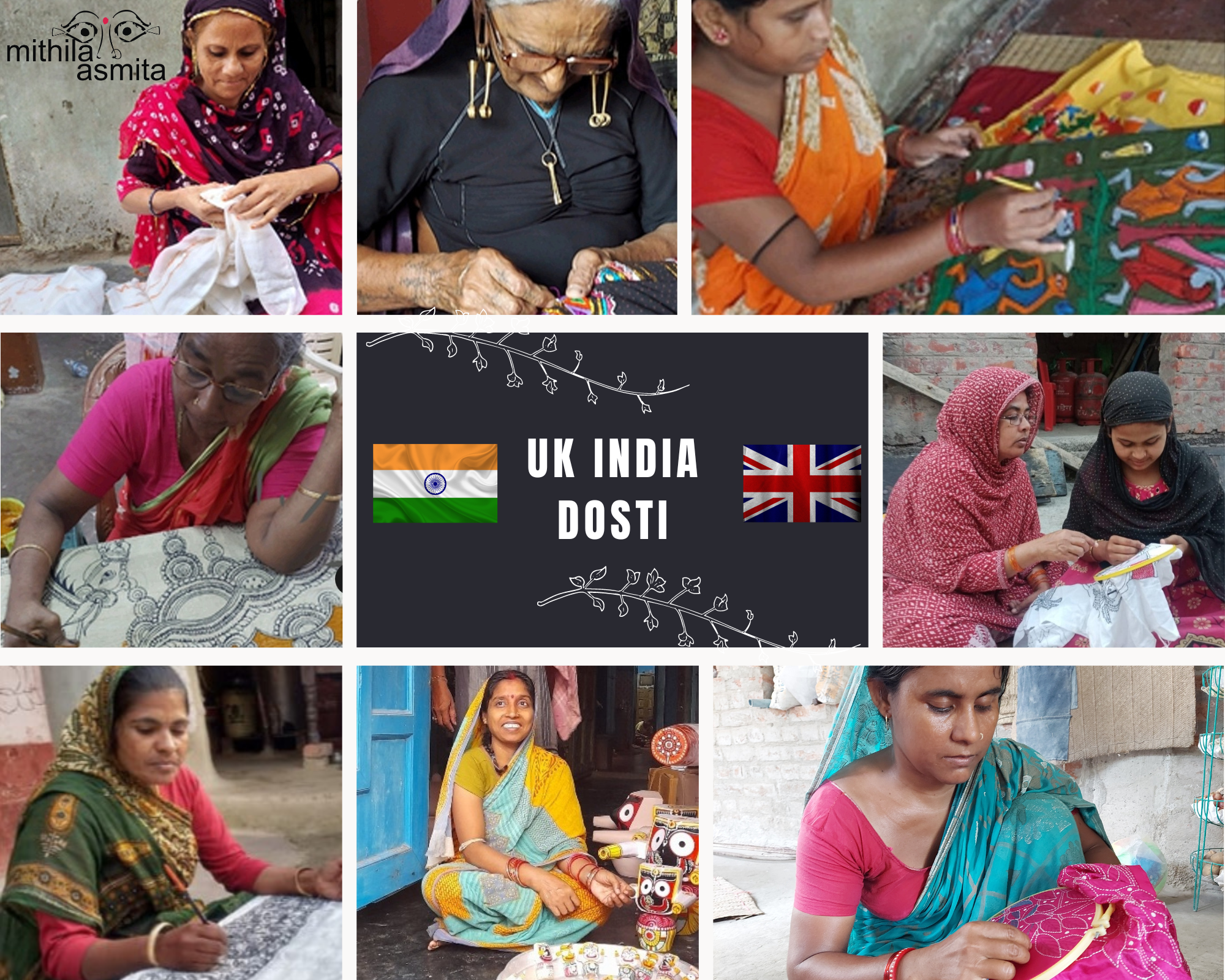 Indian Folk Art Festival featuring 75 traditional/indigeneous women artists (practicing 15 heritage art forms) as Gurus in the United Kingdom and India in digital and hybrid mode, on the occasion of Amrit Mahotsav (India's 75th Independence Anniversary). This program is being organized by MITHILAsmita, in collaboration with multiple partners in the UK and INDIA and funded by the generous grant of Steel Exchange India Limited.
"Way to Spread Our Rich Heritage"
" Terrific Collection! Great talking about the art. "
" Keep the work going. Optimism is a faith that leads to achievement, nothing can be done without hope and confidence!"
" Beautiful Collections. Specially Saris and Dupattas! Wall Paintings are Exquisite. Wish I had visited earlier!"